Partnerships and Community
Gilead is dedicated to developing innovative medicines for life-threatening illnesses – and we recognize that it takes more than medicine to address challenges people and communities face.
That's why we work with organizations around the world to launch programs that help improve access to care by eliminating barriers and advancing education
Helping to Bring More Life to People with Cancer
In the last five years, more than 60 new cancer medicines have launched globally. Yet today, more than 1,000 people still die from cancer every single hour. Making bold strides against cancer requires a strategy built on the power of partnerships, groundbreaking technologies and unexpected clinical combinations.
We are rapidly building a diverse pipeline with a focus on depth and breadth that is guided by our scientific framework. From antibody-drug conjugates and small molecules to cell therapy-based approaches, our research and development programs are creating possibilities for people with cancer.
Our work in oncology is driven by our talented team that strives to deliver the best possible outcomes for people with overlooked, underserved and difficult-to-treat cancers. We will continue to advance significant growth in this area, internally and through collaborations, as our pipeline and clinical development program mature and expand.
Our ambition is to reset the standard of care in solid tumors and blood cancers. By 2030, our goal is two-fold: to deliver 20+ transformative indication approvals and to positively impact the lives of over 500,000 people with cancer.
We also develop partnerships with patient advocacy groups to better understand and reflect the voices of the people living with cancer in our discovery, development and delivery of our therapies.
On the occasion of World Lymphoma Day the past 4 years we have launched #LightitGreen Awareness Campaign with the aim to inform general public about lymphoma, but also about the important developments in science regarding the treatment of difficult-to-treat diseases.
"Breast cancer concerns us ALL' Awareness Campaign
To help shine a light on how many women are affected by breast cancer and following last year's campaign, this year we are thinking outside the box and aiming to highlight that Breast Cancer is not just a women's issue, employees at Gilead's Greece affiliate lent their faces to an October campaign in recognition of Breast Cancer Prevention and Awareness Month. Photos of all men employees from the affiliate were prominently displayed to the public on bus stops, buses, billboards, and the central metro station.
Gilead's statement as part of the campaign noted: "Breast Cancer Concerns us ALL! At Gilead, we believe that Prevention & Awareness against Breast Cancer is a matter of huge significance. It concerns all of us, and we are here to prove it! In our current campaign, our male colleagues take the lead, reminding us that breast cancer should not and is not just a women's concern! It affects us all, and we all have a role to play on this fight."
Gilead Greece was also the official sponsor of the Race for the Cure® event. Employees and their families and friends showed support by walking and running for awareness.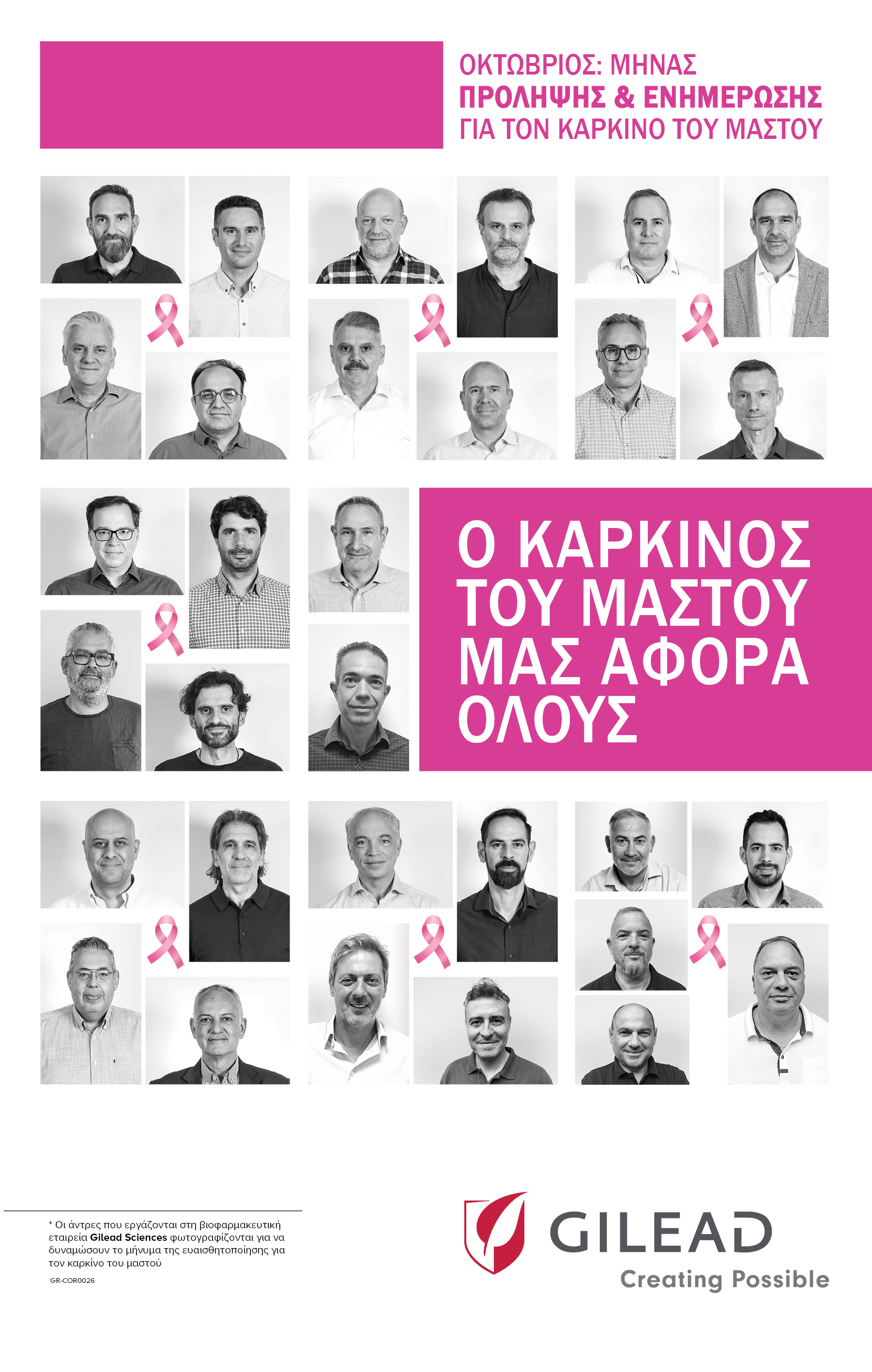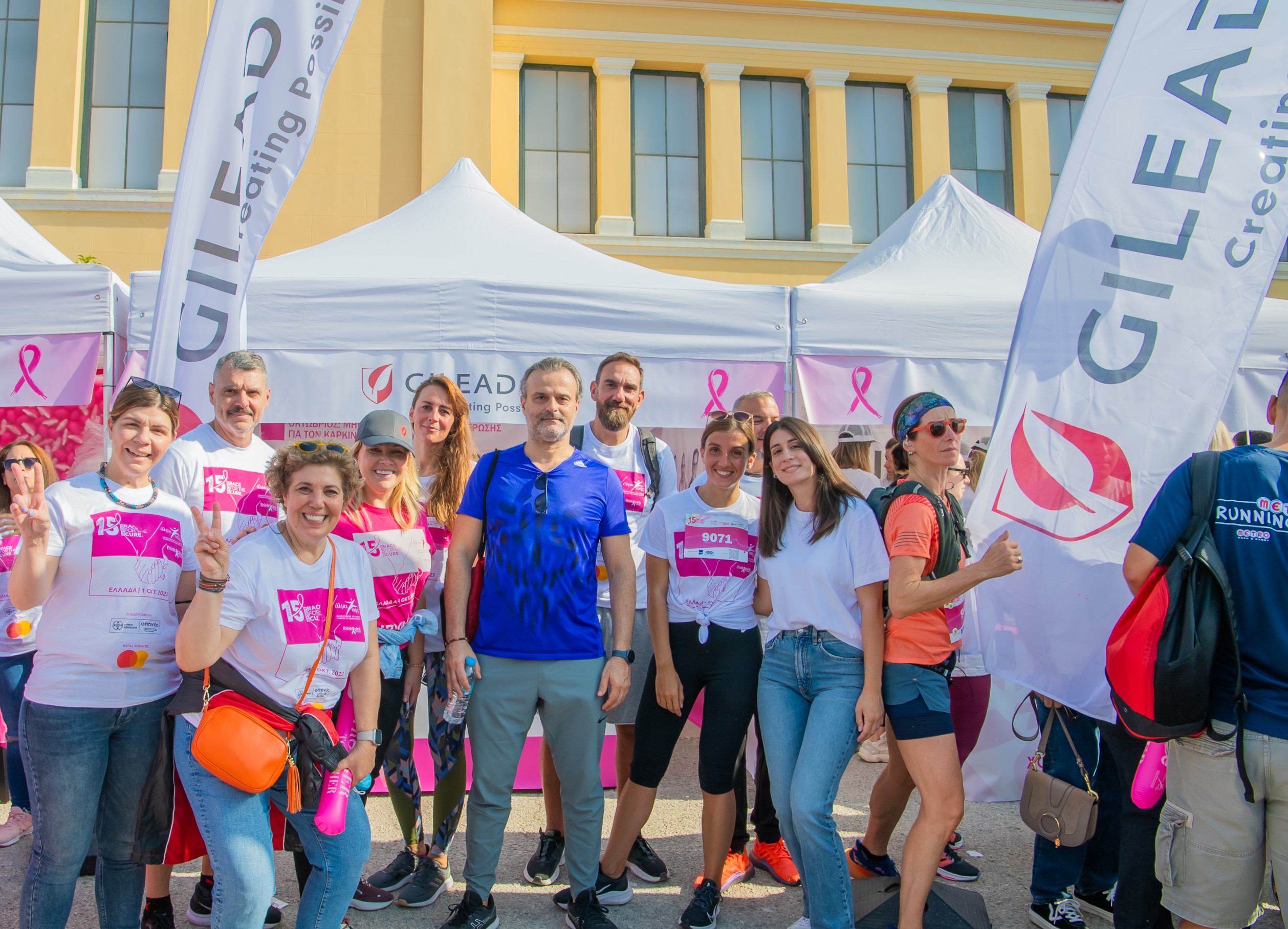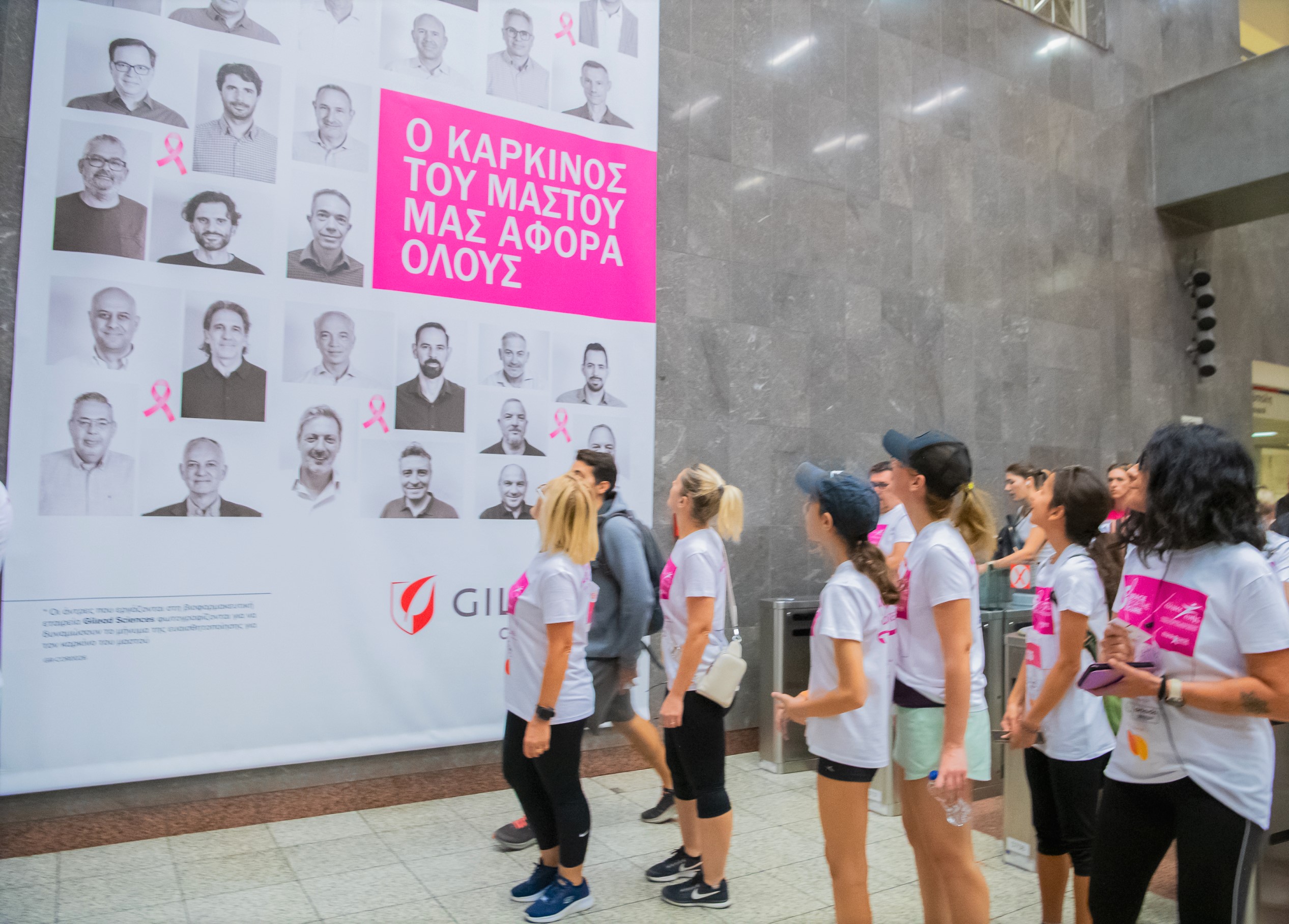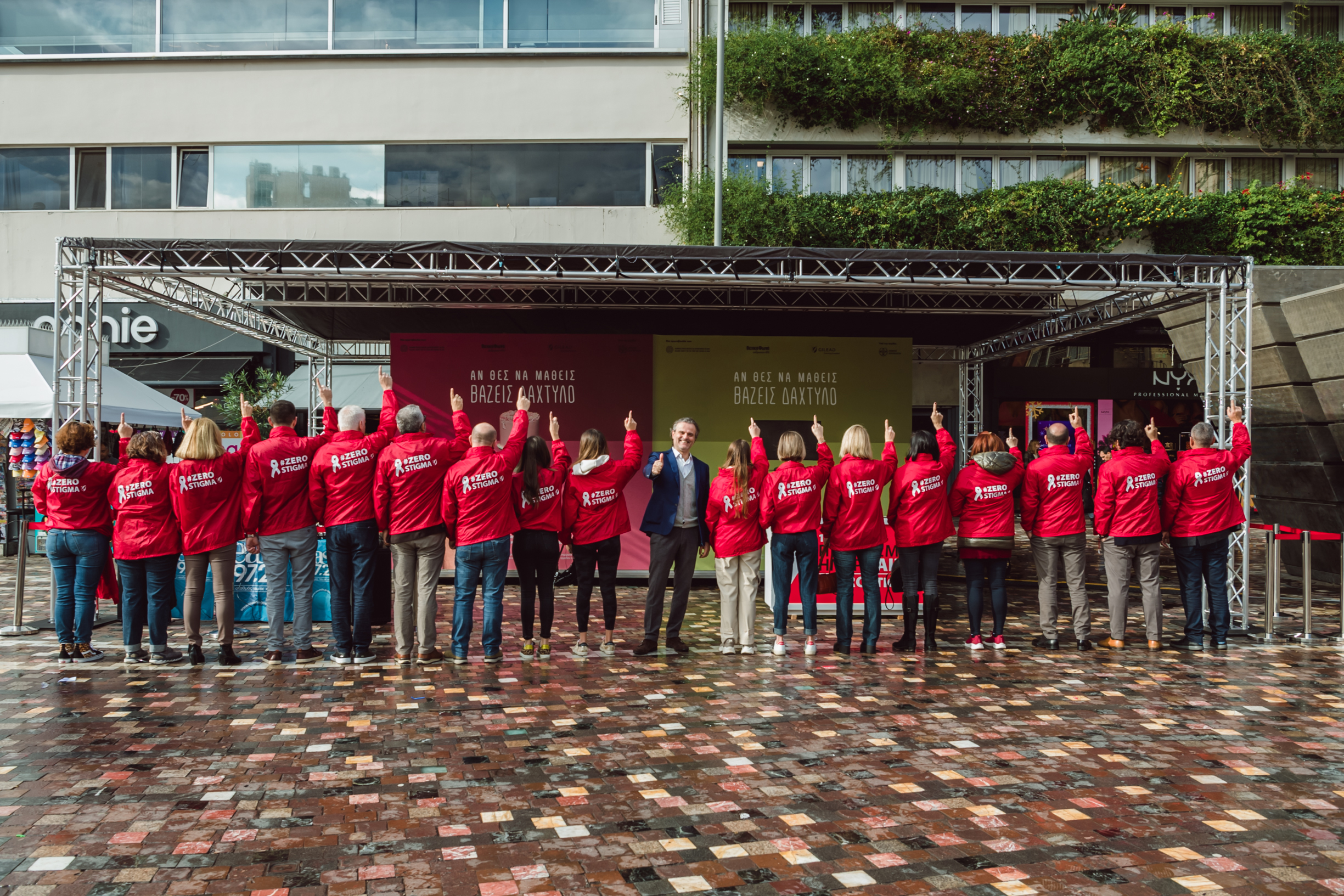 Partnering in HIV
Gilead is the partner of choice for many stakeholders in the HIV community. Through ongoing dialogue, we aim to work with our partners to provide solutions to unmet needs of people living with HIV, their caregivers and healthcare providers.
Gilead also collaborates with patient organizations and healthcare providers to address a range of needs for people living with HIV including anti-stigma campaigns, educational programs, patient support programs, research and many more initiatives. Together we strive for an inclusive society where people living with HIV will be treated with respect.
Since 2019, Gilead Greece has gone all out, and amplified its efforts to break down social barriers, through speaking openly about social stigma on World AIDS Day (1 December). Since 2021, this initiative was taken even further, shaking up convention and unsettling beliefs: Gilead transformed its campaign to introduce the idea of zero stigma for HIV testing, running large scale influential campaigns that encourage all adult people to get tested and find out their HIV status without the fear of social judgement or negative criticism.
The most recent campaigns on #zerostigma center around a single drop of blood – this is all it takes to find out someone's HIV status. In a very provocative and catchy way, Gilead Hellas has created a series of posters reflecting all 'finger activities':
2021: picking the nose, fingers burnt from iron, fingers caught in a door, and caught on a cheese grater with the motto 'your finger has been through worse, it can definitely bear a small puncture for HIV testing… take the test today, get informed about HIV and live a long, normal life'.
2022: This year's concept - we use our fingers to explore the world, to feel something or to taste something – so we encourage people to also use their fingers to find out about their body, their health status, their HIV status – under the motto: 'if you wanna learn, put your finger to it'
During the campaign which launches every year on World AIDS Day, i.e., December 1, a booth is being set up on prominent, highly visible spots, and these spots host the Athens Checkpoint in plain view, so every passer-by can get tested, on the spot. Influential people from all sectors - politicians, journalists, artists - act as ambassadors and test their HIV status publicly/on camera, sending the message of how important it is to break down the stigma, normalize testing, and thus save lives and end the epidemic. Among them, former Prime Ministers, politicians and public figures like journalists, actors, singers, health care professionals and many more.
Irrespective of gender, age and employment capacity, all Gilead Greece employees join in the fight to remove stigma from the discussion about HIV every single year. They are always present wearing characteristic, eye-catching, cannot-miss, red clothing and promoting open discussion about HIV with people visiting the booth or just walking by. They are also among the first to get publicly tested for HIV – in front of everyone.
Proud of its efforts and the message they convey, Gilead Hellas owns this fight and is proactive in spreading the word – using public transportation to communicate the message even further. Walking in a metro station or a metro wagon, stranding by a bus stop waiting for your bus, or boarding a bus, from the end of November until mid-December, chances are you will run into posters of the #zerostigma campaign, all signed boldly by Gilead Greece, with zero fear that such an association will "tarnish" its name or impact on its image.
Our Commitment to People with Hepatitis C
Our commitment to people with hepatitis C goes well beyond the medicines we make. We partner with healthcare providers and patient groups to work toward the goal of eliminating this disease in Greece. We initiate and support initiatives that raise awareness of Hepatitis C, that work to overcome barriers such as stigma and that facilitate linkage to care.
C-ity Connect project was initiated in the context of public awareness and at the same time as a call to action for high risk and marginalized populations – a project that started in Athens and then it has travelled in 5 cities of northern Greece - in collaboration with the Scientific Association for the Study of Liver, Prometheus Liver Patient Association – under the auspices of relevant Municipalities. With the motto "Get tested for Hepatitis C now" Gilead was calling on all citizens of all cities who were born between 1945 and 1980 to get tested for Hepatitis C, connecting it with birth cohort screening for individuals born between that time of period. Together we aim to eliminate hepatitis C in Greece.